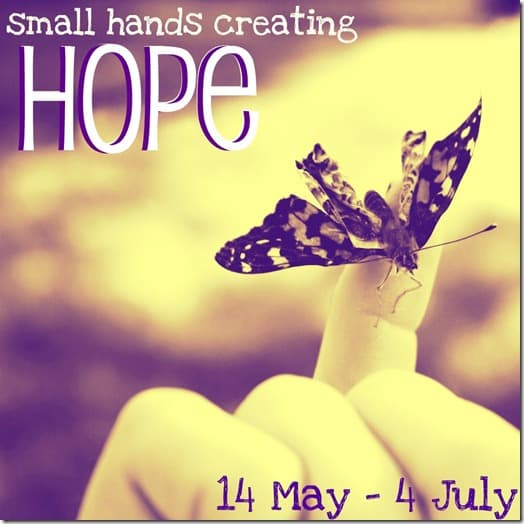 When MaryAnne from
Mama Smiles
invited fellow bloggers to take part in her beautiful project 'Small Hands Creating Hope' to celebrate
her

thirty years of cancer survivorship, &
raise funds for Cancer Research, I knew we had to be part o
f i
t (You can read more about MaryAnne's story here)
A great group of creative bloggers from around the globe have to put together an amazing ebook packed full of crafts & activities for children to make for, or to remember, those who have been affected by cancer.
Here's our colourful 'Flutterby Butterfly' project for the book, ideal for sharing a ray of hope with someone. They look great hanging in a garden or by a window, & will perch perfectly on special photo frames.
Here's how we made them...
By making a donation of $15 to the American Cancer Society you can get your own copy of the fabulous 'Small Hands Creating Hope' ebook.
(An email with the download link, as well as a second link that allows you to purchase a hard copy of the book for an additional $10.52 will be sent once your donation is received.)
If you donate but do not receive this email for any reason, or if you have trouble with the download, email smallhandsproject at gmail dot com.
The button below will take you straight to The American Cancer Society Team Page
Please support this cause by making a donation, & sharing this project with friends & family. We're hoping to raise $3000 by July 4th, and also running a blog hop from May 14th until July 4th. You can check out some of the activities, & learn about each of the bloggers who participated in the book by visiting the links below. A few bloggers will be running celebratory giveaways too so be sure to check out each post!