There are some great Nativity crafts & activities around, each exploring the Christmas story in various ways. Here's a roundup of the ones we love.


This
Bethlehem Small World Play Scene
has been a big hit in our house & was great fun to make.
This Wooden Block Nativity from The Pioneer Woman is just gorgeous! The textured figures add another dimension to this beautiful play set.
Fantastic 'green' idea from
No Time for Flash Cards
- Shampoo Bottle Wise Men. Simply perfect!
Super cute Spool Doll Nativity from
Holes in my Shiny Veneer
A flor de piel
shares a beautiful Nativity Scene created using nuts & cinnamon sticks
And now for something completely different... how about an Edible Nativity like this amazing Gingerbread Nativity created by
AOK Corral
I love
Nurturestore's
Junk Model Nativity - simple, frugal & fun!
Happy Hooligans
shares a brilliant Nativity Sensory Tub - so much exploring & imaginative play just waiting to happen!
How perfect is this Nativity Dramatic Play Scene from
Exploring the Outdoor Classroom
?! Just brilliant!
I love this small world play stable & use of play figures from The Imagination Tree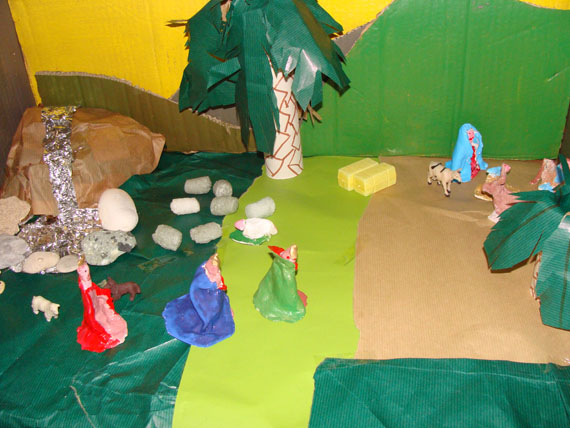 Fab Mums
homemade Nativity Play Scene is just perfect for exploring the whole Nativity story.
And finally here's our
Nativity Tree
.
Have you got a Nativity themed activity? If you have, please leave a link below, I'd love to see them.